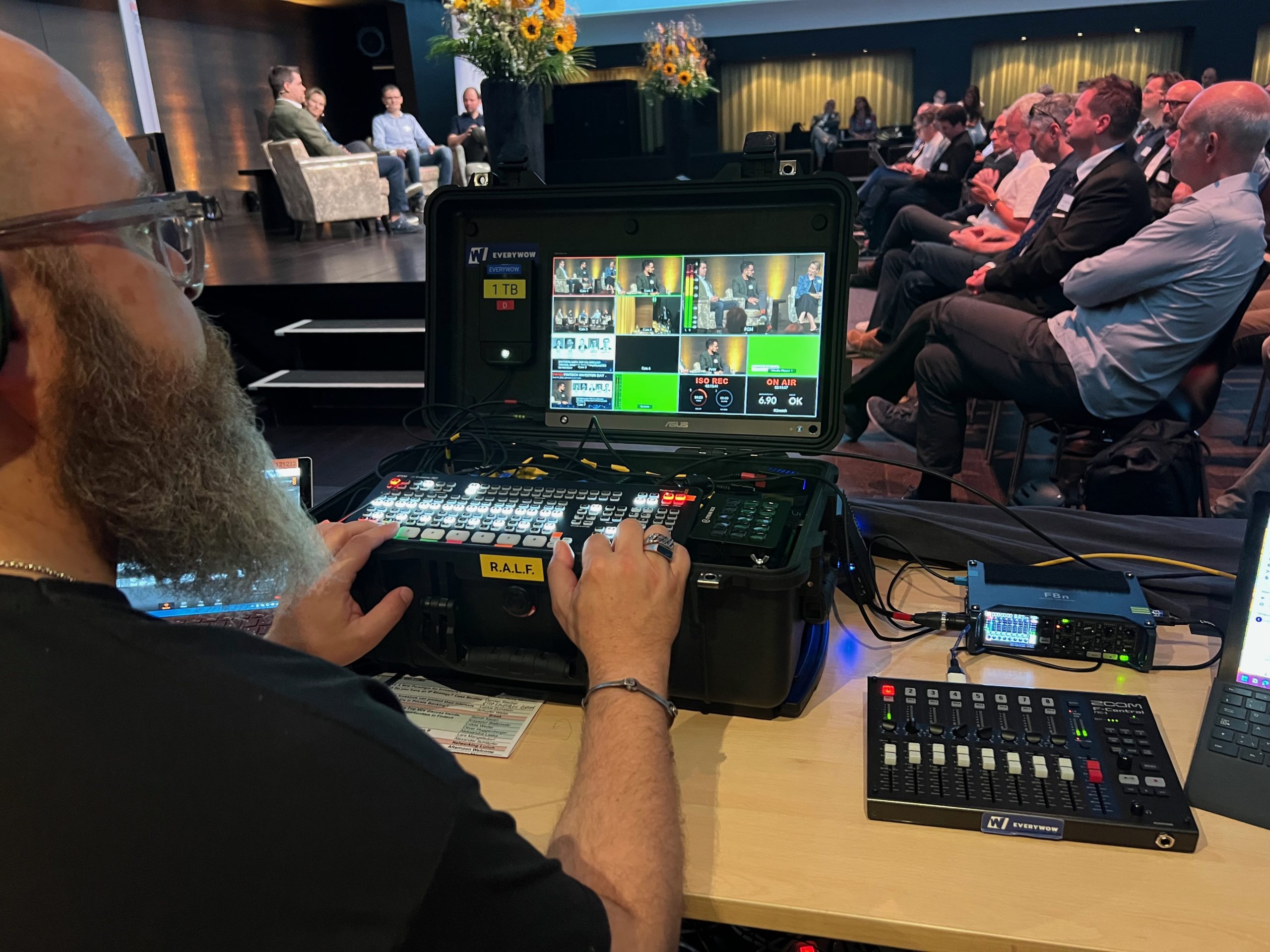 Success stories
Experience which projects our customers did with us together
Get inspired by our projects
Experience what we did for our customers and get inspired
Financial Services Provider
First-class hybrid conference
The aim of this hybrid conference was to increase influence through high-quality thought leadership content. The production included audience analytics, hosting on an event platform, live-streaming and recording of conference content, and post-production of talks and social media content.
Public sector
Yearly award ceremony
With the professional live broadcast on the internet and on targeted social media channels, the reach was increased enormously. The reuse of the event footage offers content for further campaigns, which could be used specifically for more attention and awareness.
International consulting firm
Customer engagement show
An interview with a world-famous tennis star was broadcast on a 360° projection screen on site, creating an immersive experience. The staging helps customers feel as part of the experience and thus building a stronger bond with the brand. With high-quality visuals, an unforgettable experience was created that remained in the customer's mind for a long time.
International goods manufacturer
Town-hall meeting with CEO
A vivid discussion between in-person and remote guests provided the right balance in the panel, which makes the audience stay tuned. The remote speaker was connected via a large screen and gives the event a multidimensionality that arouses the audience's interest. By broadcasting live on the internet, employees could be reached worldwide.
Global NGO
International award ceremony
With animated graphics and stinger transitions, this online event was able to captivate viewers and appropriately represent the event's brand. The broadcasting of the nominees was completely location-independent, and the award winners were authentically informed live, amplifying the emotions of the viewers.
Medical device manufacturer
Live broadcast of a global product launch
By broadcasting on several screens, the visibility at the fair was increased, and the event was appropriately staged. The live broadcast on the internet significantly increased the reach. The promo video produced from the event recordings served to keep the event alive by being used on the website, in mailings and on social media, thus attracting more attention.
Medical provider
Training for medical professionals
The decision to produce this event as a hybrid event and allowing its audience also to join virtually increased the reach of this training event by over 100%. Our production enabled the event sponsors to present their brands professionally to the audience.
Global NGO
72h non-stop virtual conference
Our 360° turnkey solution for a global conference aims to reach a worldwide audience 24/7 with captivating content and excellent hosts. The solution includes speaker coaching, pre-recorded presentations, live discussions, 72-hour continuous event management, and high-quality video livestreaming.
Sustainable food manufacturer
Employee engagement show
The celebration of the achievements of a worldwide workforce was marked by the production of a high-quality and entertaining live show. The show featured authentic hosts, pre-produced interviews from around the world, an on-brand presentation, and livestreaming in two different time zones.