Barry Callebaut produced an employee engagement virtual live show together with EVERYWOW to increase the success of their diversity, equity & inclusion initiative.
The Barry Callebaut Group is the world's leading manufacturer of high-quality chocolate & cocoa products, from the sourcing of raw materials to the production of chocolates. Barry Callebaut is a business-to-business company with 66 factories worldwide and a workforce of over 13'000 employees.
Client: Barry Callebaut Group
Industry: Food production
Challenges
Aligning a global workforce on DEI strategy
Demonstrating upper management's commitment to the DEI strategy
Engaging employees on an emotional level
Presenting relatable updates on current developments
Encouraging employees to act on DEI
Success factors
Featuring Barry Callebaut employees in the production
Engaging storytelling and dramaturgy highlighting global cases
Filming the show in Barry Callebaut offices
Portraying peers and their personal DEI actions
Two livestreams to reach the global workforce in different time zones
Results
Increased sign-ups to the leadership development network
Renewed commitment from upper management
Demonstrated progress in implementing DEI strategy to employees
High engagement in the chat from regions that were highlighted in the show's program
DEI as a strategic pillar
Barry Callebaut's commitment to diversity, equity, and inclusion (DEI) is a critical component of their strategic success. The company recognizes that achieving gender equality throughout their office and factory workforce is crucial, as is strengthening their relationship with local communities and boosting the productivity of their mostly female-run cacao farming operation.
To address these needs, Barry Callebaut launched a comprehensive DEI initiative two years ago, which seeks to promote greater gender equality and operational efficiency worldwide. The initiative encompasses a range of global and local actions aimed at fostering DEI throughout the organization and has yielded significant results.
For example, it has helped the company achieve greater gender balance in leadership positions, while also expanding training programs to promote diversity and inclusivity. Additionally, the company has established new partnerships with local organizations and initiatives to empower female cacao farmers, improve their livelihoods, and build stronger ties with surrounding communities.
To share their progress with employees and continue to promote DEI, Barry Callebaut introduced an annual live virtual show. This event showcases the latest developments and outcomes of the company's DEI initiatives, both within the organization and in the wider DEI landscape. Through this event, Barry Callebaut hopes to engage and inspire others to join them in their commitment to promoting diversity, equity, and inclusion in the workplace and beyond.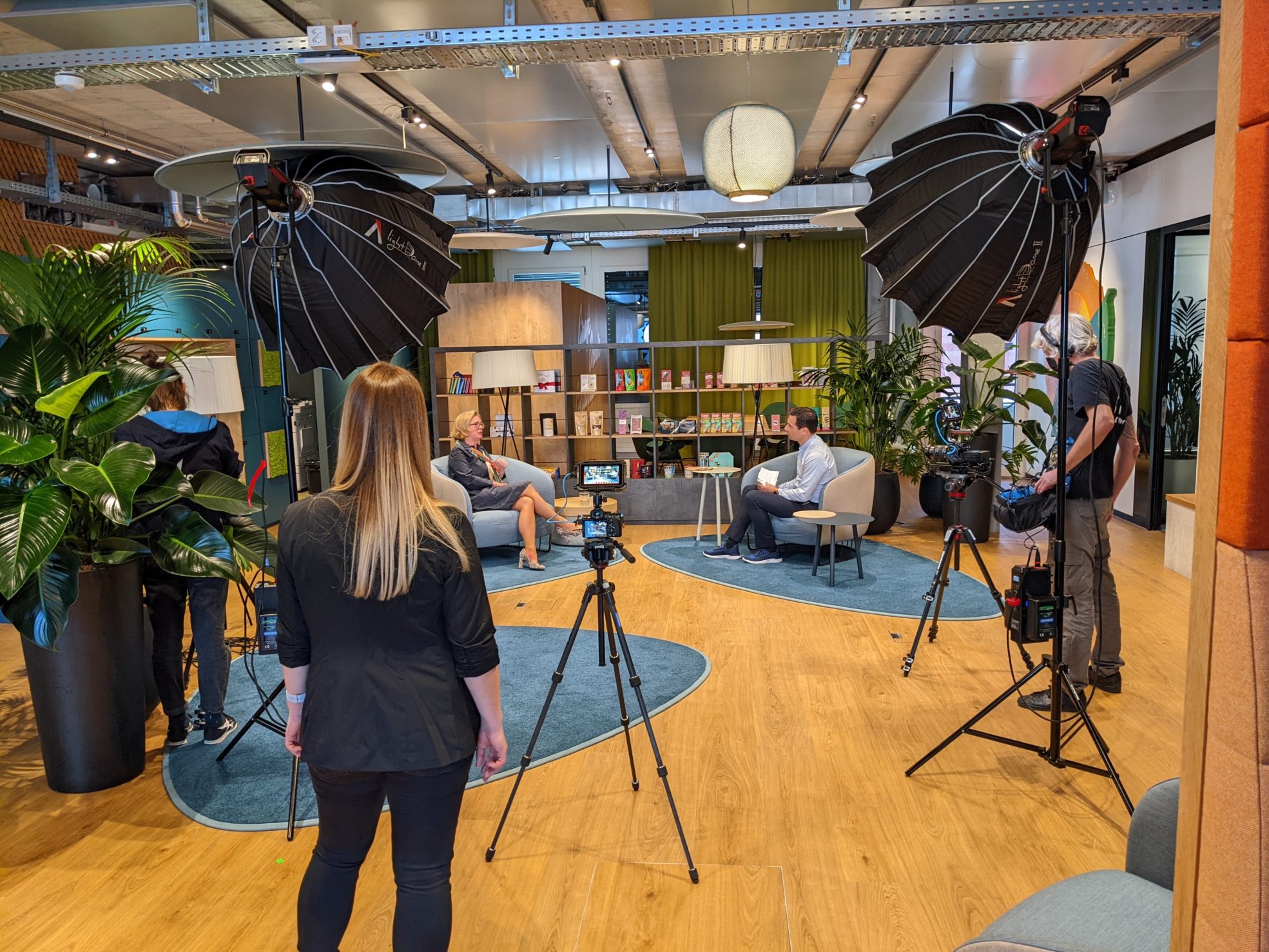 Barry Callebaut and EVERYWOW
Together, we collaborated to create an engaging show concept that aligned perfectly with Barry Callebaut's vision. The result was a meticulously planned, 45-minute-long program that included speeches by the CEO and other board members, interviews, and experience reports from various employees around the world. To maintain authenticity, filming was scheduled to take place in both, the Zurich headquarters of Barry Callebaut and remotely in other office locations around the globe. During location scouting, a team consisting of Barry Callebaut's project manager and EVERYWOW's director carefully selected shooting locations that best suited the program's requirements.
The talent in front of the camera was exclusively comprised of employees from Barry Callebaut. EVERYWOW provided experts, including a director, producer, camera, and sound operators for the production. Working in collaboration, the team was able to produce a high-quality show that remained authentic and trustworthy, and effectively promoted DEI actions within the company.
Shooting in various locations around the world was conducted with professionalism and efficiency through remote interview recordings. The interviews were cut and professionally prepared for the live show. Additional footage was recorded by employees around the world with their mobile phones. This approach enabled the team to produce a program that not only featured professional-looking individuals, but also delivered genuine and authentic content. Additionally, the innovative filming approach was also cost-effective, ensuring that the entire production was both high-quality and budget friendly.