After over a decade of work, PTC gets the regulatory approval for the first-of-a-kind gene therapy treatment and celebrates this milestone in an internal virtual live show to their global workforce.
PTC Therapeutics, Inc., is a global biopharmaceutical company focused on the discovery, development, and commercialization of clinically differentiated medicines that provide benefits to patients with rare disorders. Their ability to innovate to identify new therapies and to globally commercialize products is the foundation that drives investment in a robust and diversified pipeline of transformative medicines.
Client: PTC Therapeutics
Industry: Therapeutics
Challenges
Develop a coherent storyline for the broadcast
Showcasing the product team members and their hard work in a captivating and engaging way
Including a live commentary from a remote CEO (located in the US)
Success factors
Handing over all aspects of the technical production to EVERYWOW
Content that is equally engaging, informative, and relevant to the target audience
Flexibility of changes until the last minute
On-time handling of high-ranking company Executive Committee members
Content is planned well in advance to ensure that it is delivered in a professional and polished manner
Results
Intriguing broadcast, with an outstandingly high tune-in rate from employees around the world
The show helped acknowledge the hard work and dedication of employees involved
Celebrating the company's milestone with employees had a positive impact on the engagement, motivation, retention, and company culture, as well as the overall brand image
The launch of a revolutionary treatment
In 2022, PTC Therapeutics, Inc., announced that the European Commission has granted marketing authorization for their first approved gene therapy treatment developed for AADC deficiency.
AADC deficiency is a fatal genetic disorder that typically causes severe disability and suffering from the first months of life, affecting every aspect of life—physical, mental and behavioural. AADC is exceptionally rare, and the lives of affected children are severely impacted and shortened.
The treatment is a one-time gene replacement therapy designed to correct the underlying genetic defect of AADC. It is one of only a handful of gene therapy treatments to be approved, worldwide, to improve the lives of patients diagnosed with a range of diseases.
To mark this significant milestone and to honour the tireless efforts of everyone involved in the development and approval of the treatment, PTC Therapeutics, Inc. decided to host a celebratory show for their global workforce.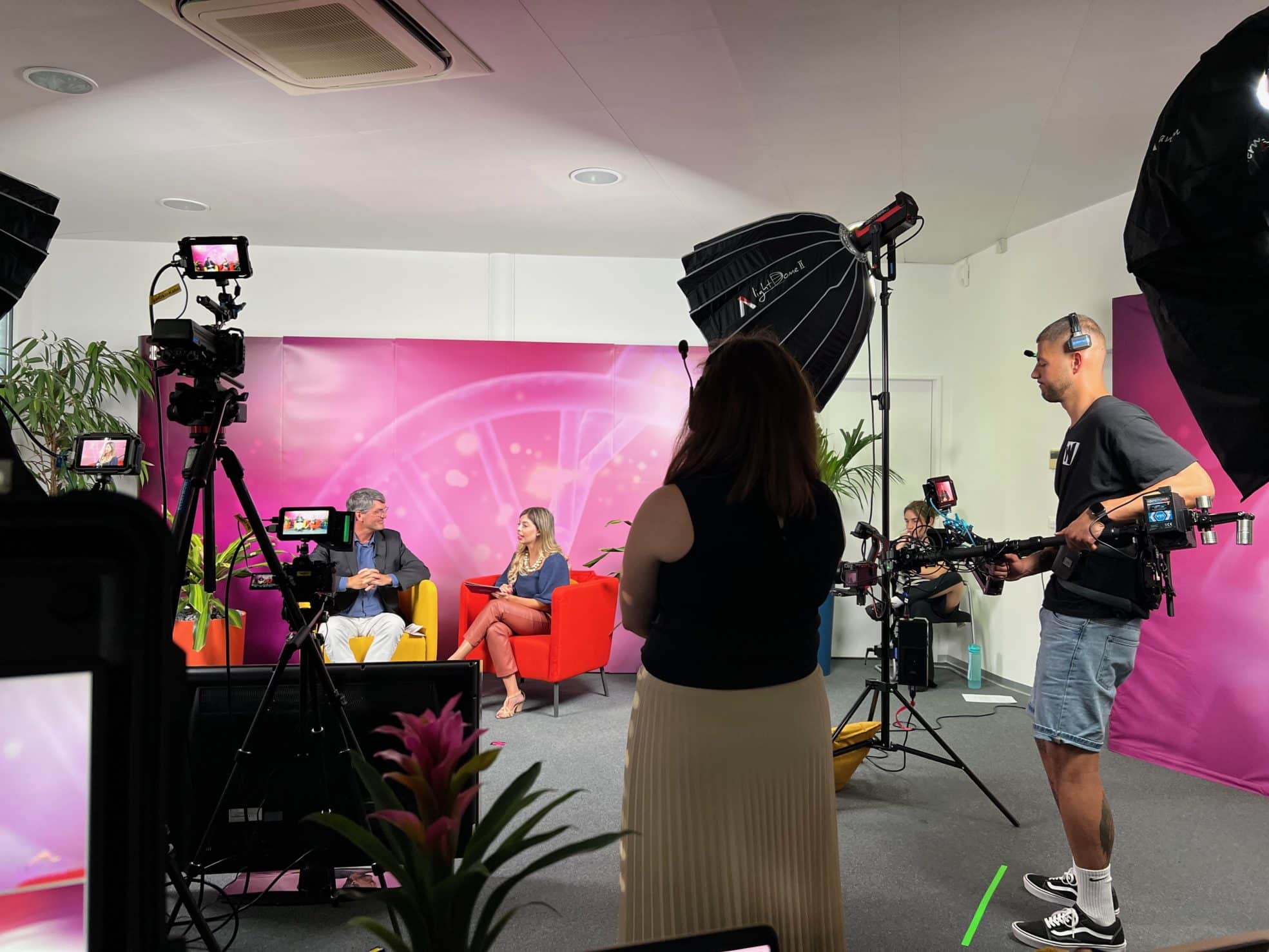 PTC Therapeutics and EVERYWOW
PTC intended to produce a celebration show that had the look and feel of a news broadcast, while still being hosted in-house. To achieve this, a mobile studio was set up at the company's headquarters.
EVERYWOW took over the entire technical production of the event and carefully planned out the show's schedule together with PTC and their agency, considering in-person and remote speakers, as well as pre-recorded content. A detailed run-of-show ensured that transitions between in-person and virtual speakers were seamless, and that the show flowed smoothly from start to finish.
In addition to the technical aspects of the production, EVERYWOW's creative director placed a strong emphasis on content development. For this, she worked closely with the communications team at PTC to ensure that the show's storyline was emotional, engaging, informative, and relevant to the target audience.
As a result, we were able to produce a celebration show that not only looked and felt like a professional news broadcast, but also delivered high-quality content that resonated with the target audience. The celebration created a sense of community and shared accomplishment among employees, fostering team spirit and collaboration.