Oikocredit organised its "Spring Offsite" in the Swiss mountains, a three-day hybrid conference. Half of the 80 or so participants took part virtually. Thanks to the clever technical setup, all participants had the opportunity to give presentations and discuss with each other – regardless of their location.
As a social investor, Oikocredit finances and invests in fair trade organizations, co-operatives, microfinance institutions, and small to medium-sized enterprises in developing countries.
Oikocredit is one of the world's largest private financiers of the microfinance sector. It has offices in 31 countries, and its central office is in the Netherlands.
Client: Oikocredit
Industry: Finance
Challenges
Top management and the supervisory board are distributed globally
Not all participants were able to travel to a three-day conference
Offer equal discussion opportunities for remote and on-location participants
Success factors
Bullet-proof audio and video management to enable hybrid discussions between on-location and virtual participants
Projection of remote participants, remote speakers and slides at the same time
Capturing of on-location audience reactions and streaming to remote participants
Results
Successful event, where everybody was heard
Professional documentation (recordings) of all information and discussions
Organizational changes
Oikocredit has developed a new strategy to advance responsible lending and broaden its impact. The comprehensive strategy involves expansion into new areas and consolidating its efforts to support its communities. The cooperative aims to nurture a global movement that can have a positive impact on the lives of people in different parts of the world.
Oikocredit organised a hybrid spring off-site event to ensure that the new strategy aligns with the top management and stakeholders from around the world. The event aimed to build trust in the new direction, gather feedback, and clarify any concerns or doubts that stakeholders may have had.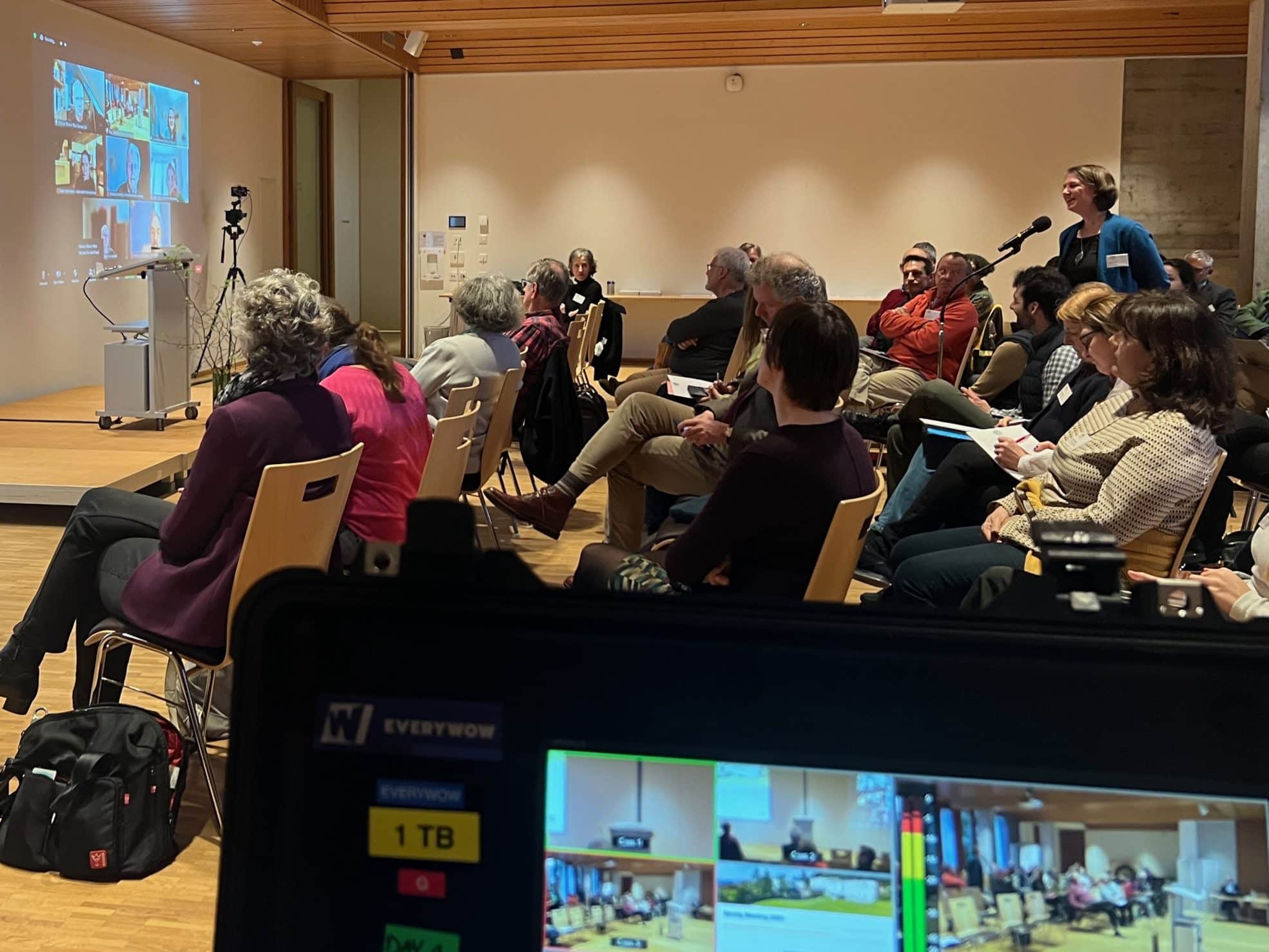 Oikocredit and EVERYWOW
Together, we developed a technical and organizational concept that allowed both in-person and virtual participants to seamlessly engage in the discussions. During the three-day conference, several speakers appeared either remotely, in person or in combination and discussed with participants on site and around the world alike.
By giving all participants an equal opportunity to voice their concerns and contribute, trust and a sense of belonging were created. Questions were asked live and verbally on-site. An on-site production manager helped to coordinate the transitions between the presentations and discussions and ensured that the technology ran smoothly. After the meeting, all sessions were made available as high-quality recordings for Oikocredit's internal documentation purposes.