We produce live streams from anywhere. For this to be possible, we need to be mobile and able to work reliably. Without the EVERYWOW operating system consisting of R.A.L.F., Z.O.E. and M.A.R.Y., this wouldn't be possible. Here we present it.
R.A.L.F. – Heart and Head
R.A.L.F. accompanies us on all projects where we have a 230V power supply. It is the heart and head of our live stream productions and combines 5G internet connection, live switcher, display and computer in one. At approximately 12kg, it is a flyweight, and as it's on wheels, it's also mobile.
For standard productions, such as smaller hybrid events – distributed meetings or live streams for training – we set up R.A.L.F., connect cameras and microphones, and we can start streaming live within minutes.
R.A.L.F. is a complete live streaming studio in a box and stands for "Rapid Autonomous Livestreaming Factory".
Z.O.E. – For Virtual Participants
"Zoom Over EVERYWOW" is used when we want to invite virtual guests to the live stream or carry out a virtual live stream production where no one is on-site. This is possible via video call solutions – we prefer Zoom – or audio-only via telephone or Clubhouse. But Z.O.E. can do even more: it allows us to start a second stream to multiple platforms or even stream very small hybrid events without R.A.L.F.'s support.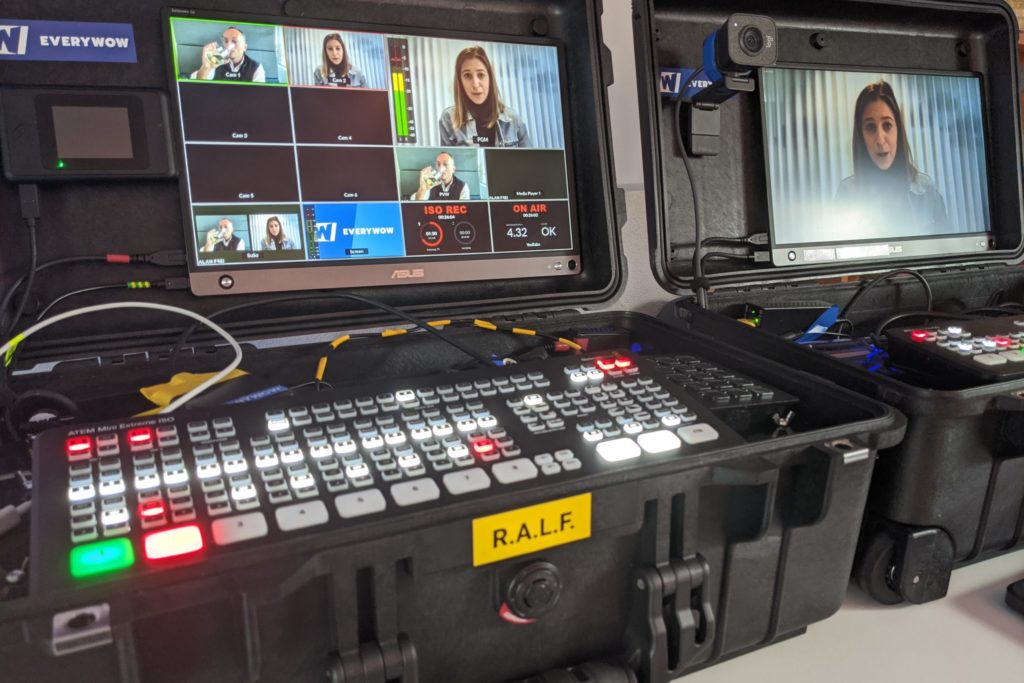 Inside Z.O.E. are a computer, live switcher, audio recorder and display.
M.A.R.Y. – Perfect Sound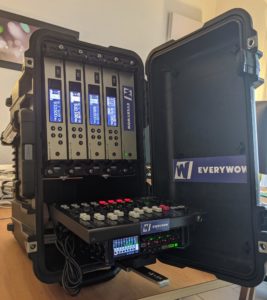 The sound in the live stream is as crucial as the picture. M.A.R.Y. takes care of the sound. It supports us when many people want to have their say in a live stream, and we consequently use many microphones/radio links.
M.A.R.Y. or "Microphone Audio Reliable Yolo" supports R.A.L.F. when two microphones are not enough: Four radio links from Sennheiser are directly installed. We can connect four additional microphones or wireless links via XLR to the built-in Zoom recorder with a mixer.
What are the requirements behind our considerations?
We have designed and built the EVERYWOW operating system ourselves based on our experience. To be able to use it flexibly for our projects, we have defined the following requirements:
Standardisation: Although every project is different, there are basic requirements we always have to fulfil. Instead of reinventing the wheel and learning anew every time, we can build on known components and thus avoid training efforts for our team members.
Extensibility: In every project, there are specific requirements that we need to cover. Our operating system must not stand in our way, but must be flexibly extendable, e.g. through apps.
Mobility: Professional components are often in 19-inch racks. There are also mobile solutions, but our goal is that theoretically one person can transport and set up the equipment, and the weight of 19-inch solutions works against this.
Error prevention: A live stream with several cameras and several microphones requires many cables, all of which can be plugged in incorrectly. In R.A.L.F., Z.O.E. and M.A.R.Y. everything is wired correctly and the cables are all secured against accidental unplugging.
Compact solution: A live stream is not produced for the equipment, but for the content. We don't want to put the equipment in the foreground, but rather be able to set it up in a space-saving way. In many projects, thanks to R.A.L.F. and his friends, a small table is enough for us.
Apps for the Operating System
An operating system is nothing if there are no apps. For this reason, we have some apps that we can "launch" on the EVERYWOW operating system:
Streaming to MS Teams/Webex/Zoom/etc.: We can stream not only to YouTube, Vimeo and other RTMP servers but also to all the usual video conferencing solutions.
Bidirectional discussions: We can also show bidirectional conversations and video feeds when we stream to video conferences. This allows for real discussions in hybrid meetings.
Tally System: Tally is the red light on the camera that lights up when active. In the EVERYWOW operating system, we can activate our tally solution.
Multiple streams: Currently, we can stream on up to three platforms without additional online services.
Additional video mix for displays in the room: In large events, it helps us show the on-site audience close-up on displays.
Video wireless links: Based on a Teradek solution, we can integrate cameras via zero-latency radio links.
Summary
The EVERYWOW operating system is based on our extensive experience and offers a flexible and efficient working environment. In this article, we have focused on the hardware components. However, the software parts are just as important, and we will present these in a future article.
If you would like to benefit from our experience setting up live streaming solutions, we would be happy to advise you. Get in touch with us.